Take On Total-Body Training In Our Leaders Youth Fitness Program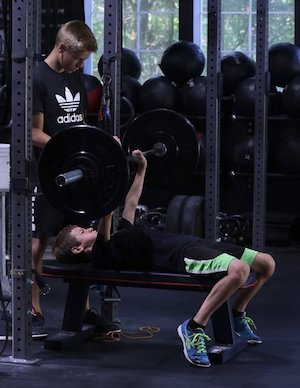 Our Youth Fitness classes at CrossFit Gig Harbor are giving teens all across the community a chance to stay active and challenge their bodies - all with the help of dedicated instructors and a cutting-edge facility.
Known in-house as the Leaders Class, this program is perfect for ages 12-18. We train teens of all backgrounds and experience levels, helping them stay motivated and enjoy the sense of accomplishment that comes with every workout.
What Can You Expect From Our Youth Fitness Classes?
Just like everything else we do here at CrossFit Gig Harbor, our goal in the Youth Fitness program is to challenge our students and offer a wide range of exercises to keep their bodies guessing.
This program includes everything from basic barbell movements to speed and agility training. PLUS, we're offering introductory instruction in Boxing, Yoga, and more. AND everything we do relies on heart rating monitoring for accurate, data-driven results.
We're helping teens all across Gig Harbor:
Stay active and take on a new challenge every day
Build well-rounded athleticism for any sport or hobby
Develop lifelong habits of physical activity
Establish self-confidence in all aspects of life
And From Day One, We're Helping Teens Develop Skills For All Aspects Of Life
Our priority in every workout is to challenge our students to be better athletes and get the very most out of their bodies. But it's impossible to overlook the lifelong values and character traits our training can offer.
High-intensity fitness training is all about overcoming that voice in your head that works to hold you back - and there's nothing more valuable than instilling that sense of perseverance and determination in our next generation.

Our Leaders Youth Fitness Classes are helping students all across our community:
Learn respect and discipline
Take pride in the process
Build leadership and teamwork skills
Sign Up Today For Our Youth Fitness Classes In Gig Harbor
We're proud to help teens all across the community develop incredible strength, speed, and agility while taking on valuable character development skills at the same time.
Join us at CrossFit Gig Harbor and get started today with our Youth Fitness Classes. Fill out the short form to learn more!